I began playing guitar in 1971 after a young woman with whom I was slowly becoming involved one evening, brought out a classical acoustic guitar and proceeded to play Donovan's "Catch the Wind." I was enthralled at how the guitar could be used, along with the voice, to not simply entertain but to communicate essential emotions to others.
My first guitar was a cheap, Japanese made Strat-style electric with a single pickup and a mapleboard neck which I picked up in a pawn shop in The Bronx, along with a nasty little amp, for $19. My next guitar was a Guild Starfire
<![if !vml]>

<![endif]>
which I rented along with a Fender Bandmaster amp. The head, pictured, stood atop a cabinet containing four 10inch speakers.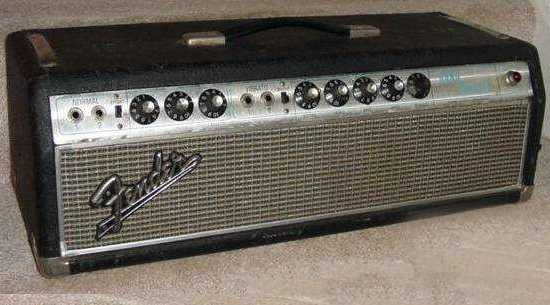 However, I didn't like the amps lack of reverb and swapped it for an Ampeg Gemini II.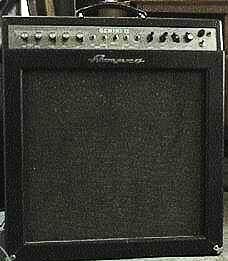 I returned both guitar and amp when I took off for Europe where, in a small music shop in Amsterdam, I bought a Framus dreadnaught style steel string acoustic guitar.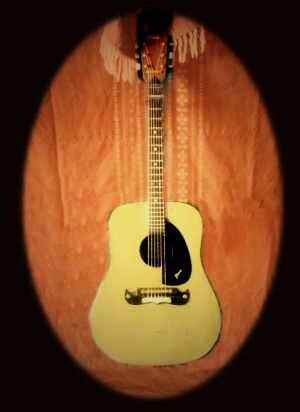 Two years later I sold that guitar to a total stranger on the streets of Amsterdam and shortly after returning to England to marry my first wife she gave me, as a wedding gift, an Epiphone steel string acoustic, which I have to this day.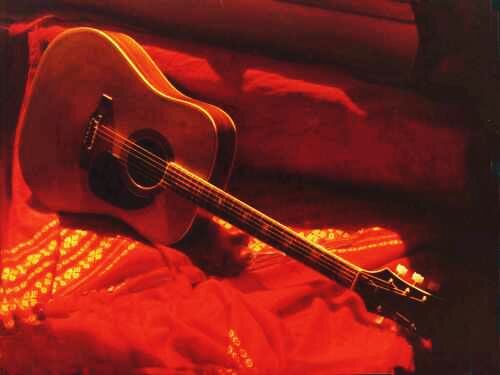 Made in Japan in the early 70's it has a slim bolt on neck with bound rosewood fret board and MOP block inlays. While it certainly, at this time, needs a re-fret it has, nonetheless, always been a prince amongst guitars with it's warmth of tone and playability.
Shortly after returning to the US in 1994, after a 20+ year absence, I was determined to posses the guitar that I had long held as my objective; a Fender Stratocaster. I acquired from a friend a Washburn 12-string acoustic/electric but found that I didn't like it and swapped it, at a local music store in Indianapolis, for my first Strat. It was a Fender Squier Bullet series Strat in black with a rosewood fretboard.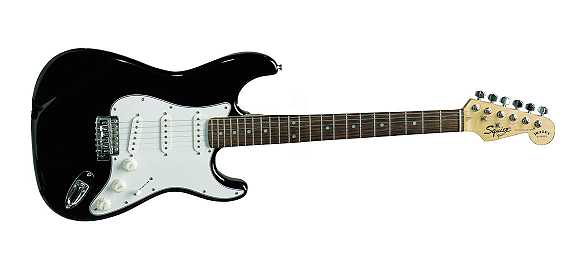 I shortly afterwards bought an amp in a pawn shop; a Crate GX60, for $40. After a time I began to realize that there were specific features and characteristics of what I wanted in a Stratocaster and I wrote up a spec sheet and sent it off to The Custom Shop at Fender Musical Instruments for a quote. Their reply: $3500. At which point I decided to have a go at building my own. I ordered a neck from Warmoth with 6100 size frets and finished it with polyurethane. I bought an Alvarez Strat clone at the Indianapolis Guitar Show for it's sweet two tone sunburst alder body and stripped it down. A set of Texas Specials on a web special from Musicians Friend. Gold Klusons from a guitar show. The remaining gold hardware and electronic parts from StewMac and local shops. And thus, a CustomStrat was born.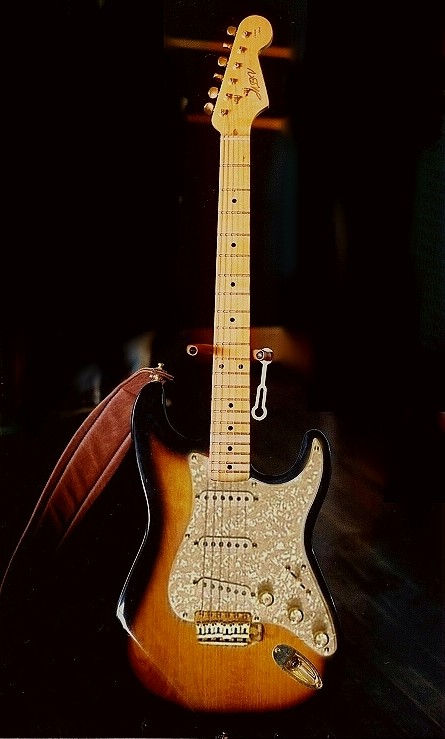 Since that time my collection of Strats has grown. I bought a MIJ Fender Standard 22 Strat in a pawn shop for $160; rosewood fret board, 3-tone sunburst finish.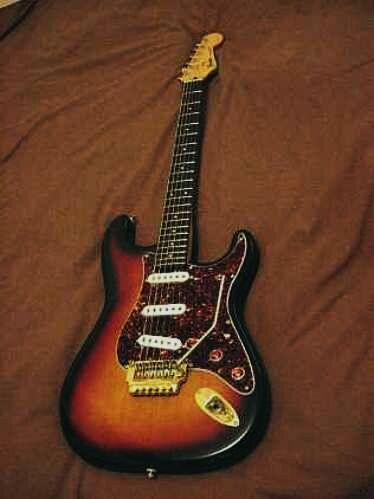 I upgraded the electronics and replaced all the hardware with gold and ultimately sold it on eBay for $325. The original Squier's neck wound up on the lefty mahogany body of Strat that I built for my son.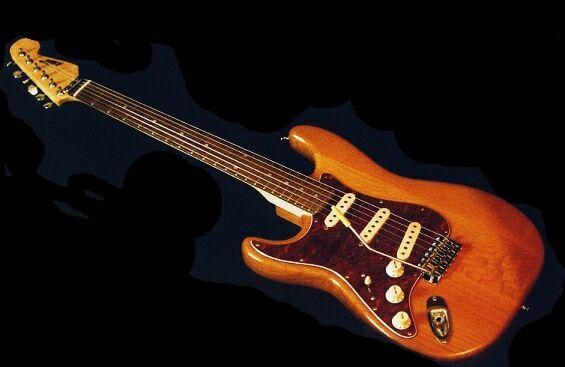 At one point a friend in Memphis asked me to build a Jimi Hendrix tribute Strat based on the Fender Monterey Strat.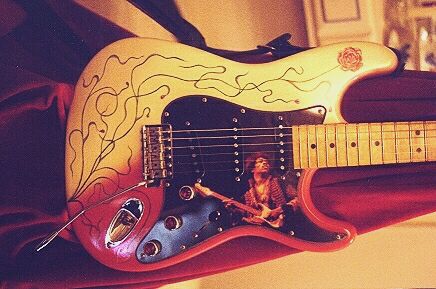 The black body from the Squier went through a variety of additions before ultimately winding up being sold on eBay. In addition to #1 I now own two other Strats. One is a hardtail, Warmoth chambered Strat body of mahogany with a quilted maple laminate top finished in deep amber and polyurethane.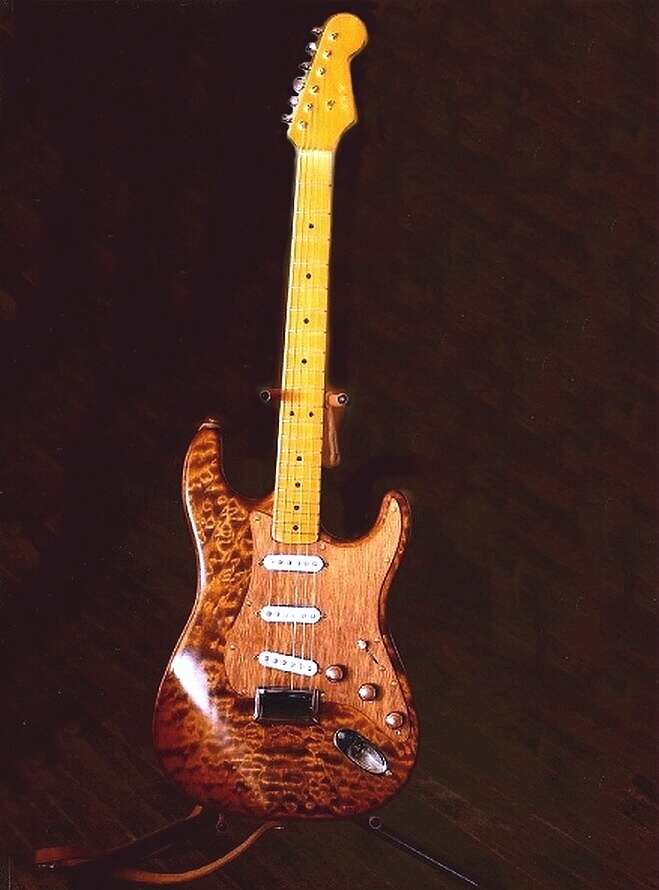 It has a maple cap aftermarket neck (9 in radius) fitted with chrome Kluson style tuners, a pickguard, homemade of thin plywood finished in polyurethane, a Seymour Duncan APS-2 single coil at the neck, a Fender Deltatone in the middle and a Squier ceramic single coil at the bridge. The fourth Strat is a hand cut, rear routed body of alder with a flame maple laminate top finished in amber with polyurethane.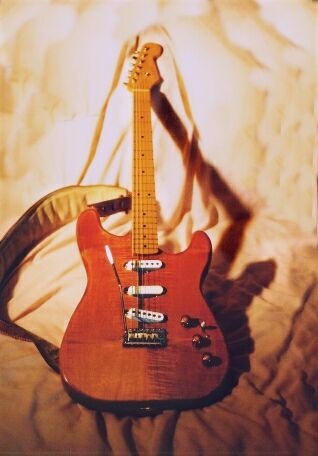 It too has an aftermarket neck with a 9 in radius and a maple cap with chrome Gotoh tuners. It's unique features, other than it's rear routing, are a vintage lefty tremolo bridge and an endpin jack plug. It is wired up with a mixed bag of pickups; a DiMarzio HS-3 stacked humbucker at the neck, a Squier ceramic single coil in the middle and a Fender Gold Lace Sensor at the bridge. All three Strats are wired to modification that provides 7 pickup combinations from a 3 way switch (instead of the standard 5 combinations from a 5 way switch) with Master Tone on everything. All are played through an Ibanez TS-5 Tube Screamer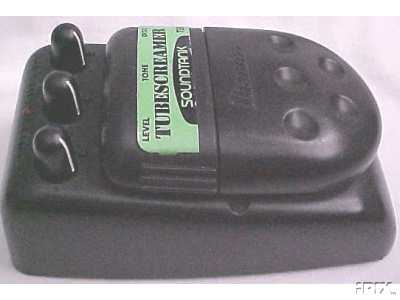 into a 1977 Fender Twin Reverb amp.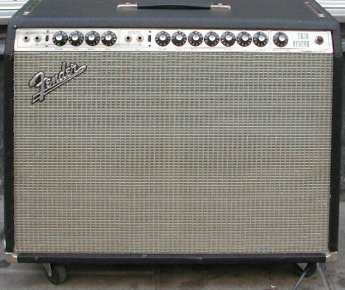 Each one has it's own distinct sound and tonality although #1 is the one that is played most often because everything about it is just right. The quilt-top hardtail is fitted with lighter gauge strings because these, somehow, lend themselves to these pickups and to infrequent playing, producing a velvety tone with a lot of sustain. The flame top has the widest variation of sound through it's oddball trio of pickups and is, therefore, probably the most versatile. It is, however, also a work in progress and the intention is to, ultimately, fit it out with gold hardware and a different neck (lefty headstock, standard thin, 7.5 in radius) and to re-laminate it with quilted maple as the flame has proven to be too subtle.
---