My Number 1 Strat

Body: Two-Tone Sunburst finished Alder
Neck: One piece Maple fitted with 6100 size fret wire, bone nut, Kluson tuners, finished in polyurethane with a vintage 7.5 inch radius
Pickups: Fender Texas Specials wired to two 500k volume pots and one 250k tone pot, to a 3-Way switch in a custom modification yielding 7 pickup combinations with Master Tone on all *
Gold vintage hardware
Schaller strap locks
Moto Pickguard
String Gauges: .012, .016, .020, .034w, .046, 0.58
---
Played through nothing less than a
1977 Fender Twin Reverb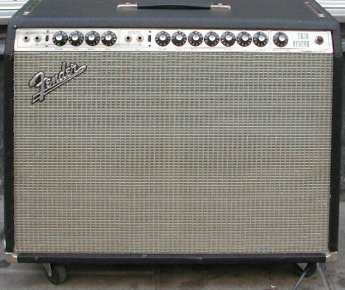 Model:

Twin Reverb

Circuit:

AC568, AA769, AA270

Config:

Combo

Control Panel:

Silver, forward facing w/ blue labels

Front Conrol Layout:

Normal: In, In, Bright Sw, Vol, Treb, Mid, Bass - Vibrato: In, In, Bright Sw, Vol, Treb, Mid, Bass, Rev, Speed, Intensity - Master Vol - Pilot Lamp

Rear Conrol Layout:

AC Outlet, Ground Sw, Fuse (2˝A), Power Sw, Standby Sw, Speaker Jack, Ex. Speaker Jack, Vibrato Jack, Reverb Jack, Reverb Out, Reverb In

Knobs:

Black skirted w/ chrome center, numbered 1 - 10

Cabinet:

20" x 26" x 10˝" (50.8 x 67.3 x 26.7 cm)

Cab Covering:

Black Tolex

Cab Hardware:

Black strap handle, 5˝" Chassis straps, 16" tilt-back legs, corner protectors, glides (68-71) or casters (72-82)

Grille:

Blue sparkle grille cloth w/ aluminum frame (68-69), w/o aluminum frame (70-81)

Logo:

Grille mounted, raised, chrome & black script "Fender" w/ tail (68-74) or "FenderŽ" w/o tail (74-82)

Weight:

69 lbs. (31.3 Kg)

Speakers/Load:

2 x 12"/4 ohms (8 ohms each in parallel)

Speaker Model:

Oxford 12T6, Utah 12", Roland 12" or Gauss 12"

Effects:

Reverb, Tremolo

Output:

135 Watts

Preamp:

Normal: 7025
Vibrato: 7025, ˝ 7025

Power:

4 x 6L6GC

Bias:

Fixed, adjustment pot or balance pot (AA769, AA270)

Rectifier:

Solid State

Phase Inverter:

12AT7 (long tailed)

Other:

Reverb Driver: 12AT7
Reverb Recovery: ˝ 7025
Tremolo: 12AX7(photoresistor)

Comments:

A master volume was added in 1972.
Other late seventies circuit changes included a Line Out jack, hum balance pot, and a pull boost sw.
Fender switched back to the blackface era cosmetics some time in 1980. Twin Reverbs produced between late 1980 and 1982 have a black control panel and silver sparkle grille cloth.